Are Your Dirty Supply Registers Trying to Tell You Something?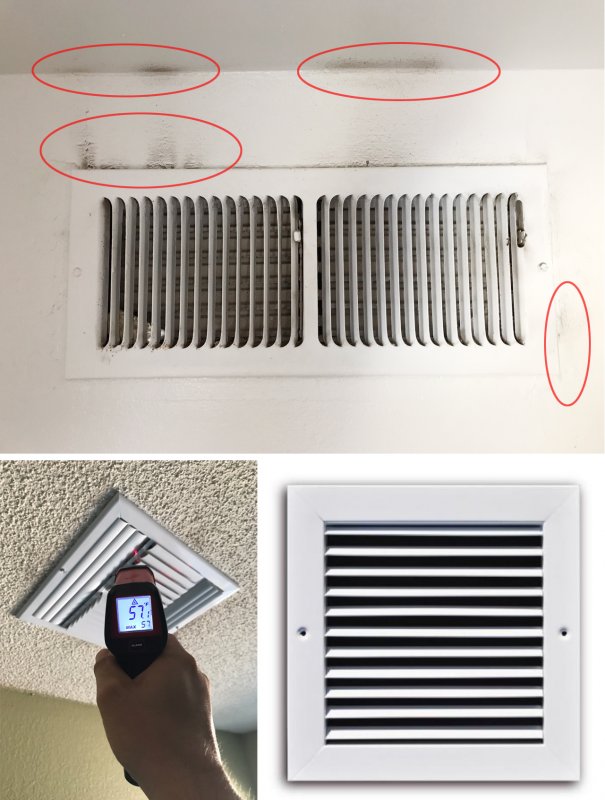 Have you noticed black streaks on the supply registers and growing up the walls around them? Or, do you have constant wisps of dust coming from the vents every time the air conditioner comes on? Is there a grimy coating on the grilles of the air registers that you can't wipe clean? If so, this might be an indication you have something wrong with your heating and cooling system.
An effective HVAC system is supposed to remove most of dust, dander, mites, allergens, dirt, dust and grime BEFORE it gets to the supply register. If it is not, you could have one or more of these issues:
Duct Leakage
Air duct leaks can be a source of black streaking around the supply registers. Inside the ductwork, unsealed openings pull insulation particles or other dirt and debris from the unconditioned space into the duct run and airflow. As these particles from the unconditioned space become pulled into the airstream of the conditioned air, they get distributed across the surfaces where the airflow is blowing and leave a trail of streaking.
Bad Filtration
Moisture is a big problem with an ineffective HVAC system and can cause big problems, including in the air vents. Dirt streaking around the supply registers and up the wall or ceiling may be amplified when excessive moisture is in the airflow. Moisture causes particles to become sticky and can cause grimy dirt to gather on the vents and other surfaces.
Dirty Air Ducts Due to Lack of Maintenance
Regular filter changes and preventive maintenance is a home and building owners best defense against added dirt, dust and allergens entering the airflow. Twice a year, the HVAC system should be cleaned and inspected by the professionals at Total Air. Spring is best for evaluating operation, cleanliness and effectiveness of the cooling system. This will prepare it for the hot and humid summers when conditions in the air duct system are at their worst. Fall is best for furnace maintenance. Both will keep your system AND vents cleaner and operating most efficiently. Either season, our powder-coated replacement registers (featured in the picture-bottom right) is always in style. During your preventive maintenance visit, ask for an estimate on our beautiful OBD (opposing blade dampers) to dress up the room and better distribute air into your living spaces.
A Bigger Issue
Finding the source of the dirt and black streaking is the very first step to solving the problem. Total Air can inspect the HVAC system -- and some distance into the ducts -- to see if there is duct leakage, if they are simply excessively dirty and only need a cleaning, if there is a mold problem from too much moisture, or if there are bigger issues.
Don't panic if you see dirt and dust gathering at the supply registers. Try wiping them clean with a wet rag and seeing how soon dirt gathers again. If you have sticky residue, then you may have a moisture problem that need to be evaluated.
Call Total Air, El Paso's #1 heating and cooling contractor, and we'll inspect your air ducts, supply registers and heating and cooling system to properly diagnose any issues that may need repair.
To schedule, call Total Air at 915-585-0909 or visit us at www.totalairep.com.