Explaining Your HVAC System's High (or Low) Price Tag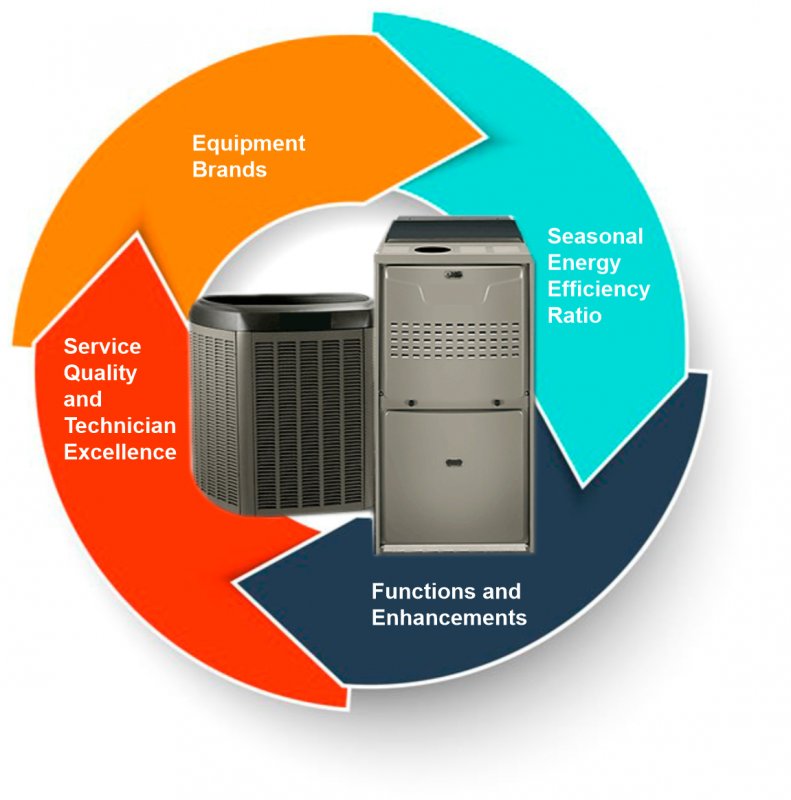 These days, homeowners have many options when it comes to purchasing air conditioning equipment. But with options, comes some confusion on why certain things cost more than others. Here's some simple explanations to help you better understand what you can expect for your money when buying HVAC equipment and services:
HVAC Equipment
Premium Brands: When it comes to HVAC equipment, mainly condensing units and furnaces, there are a wide range of makes and models from which to choose and that affect price. Premium brands -- like Lennox, Trane, Rheem, and Carrier in our opinion -- are going to be your best choice for the highest quality equipment. These brands come with the best warranties, for one. And, two, they are all built to last for years beyond that warranty if they are cared for with regular maintenance. However, with the best equipment, sometimes comes a bigger price tag. When buying premium HVAC brands, like the ones mentioned above, you can expect to pay a little more.
Seasonal Energy Efficiency Ratio (SEER): SEER calculates the average cooling output a unit provides versus how much energy it consumes. The higher the SEER rating, the better energy efficiency the system provides. That means, you'll enjoy lower utility bills. Higher SEER also means you'll pay a little more up front for the equipment, but you are very likely to see a return on your investment sooner.
Single Stage, Two Stage and Variable Speed: Single stage air conditioners and furnaces operate at one speed: full blast. Single stage is a more affordable option for air conditioning because of its limited functionality.
Variable speed equipment "steps up" to the amount of cooling or heating called for with the temperature setting on thermostat. Variable speed equipment is the most comfortable and most energy efficient. It's also the most expensive as you would expect because of its efficiency.
A two-stage or dual stage compressor sits somewhere in between single and variable speed systems in terms of how it functions. While it doesn't operate at a wide range of capacities like variable speed does, it does vary its output somewhat. It also sits somewhere in between in price…not being the most affordable, but not the most expensive option either.
HVAC System Enhancements: Thermostats, UV Lights, Air Cleaners, and Humidifiers, to mention a few, are products to which one many add to really improve comfort, efficiency and air quality. Thermostats come in a variety of styles from the most simple (and cheapest) to programmable for high efficiency and savings to Wi-Fi models you can control from an app on your smart device. While the Wi-Fi versions may be more expensive, you can gain more control, monitoring, reporting and have away-from-home features in their operation. In the long run, all of those features may save you money.
UV lights and air cleaners work with your HVAC equipment to provide the best air possible. They are an added expense when purchasing a new system, but if you suffer from allergies or respiratory illness, they are a MUST!
Humidification is something we've not needed much in El Paso and Las Cruces until recent years, but we are seeing higher levels of humidity and adding this enhancement to your new system may help in providing more comfort, minimizing smells in upholstery and carpets, and protecting precious woods like pianos, moulding and others adversely affected. Some humidification control is built-in to better refrigerated air systems. But, for some equipment, the enhancement is a necessary add-on to meet expectations for comfort and protection.
HVAC Services
We don't have to tell you that "you get what you pay for!" We've all learned this lesson somehow; some way on some purchase before in our lives. All of us included!
When it comes to HVAC services, though, you'll want the best. And, sometimes that comes with a little higher price tag.
The best HVAC contractors are licensed, bonded and insured. We pull all of the proper permits and file all warranties for every customer. We have senior technicians that are expertly skilled, trained and certified. They have track records of 300-400+ installations every year. And, they treat and pay their employees well and in turn, they provide the best service, repairs, installation and continued support available. That is Total Air!
Everyone at Total Air -- from the person who answers the phone to the project manager who comes to estimate and survey your home to the technicians who install or repair your equipment – has been personally selected, background checked and trained by the owners of this great company to provide every customer with the ultimate in HVAC Services. You won't want to pay for anything less!
Total Air is the number HVAC contractor in El Paso, with more installations than any other…year after year, and for good reason. We are simply the best. We may not be the cheapest and here we've explained why. But, we feel we are the best! If this is the contractor you want for your job, call us at 915-585-0909. Or, visit us at www.totalairep.com