How to Check to See if the Proper Permits for Your HVAC Installation Have Been Pulled by Your Contractor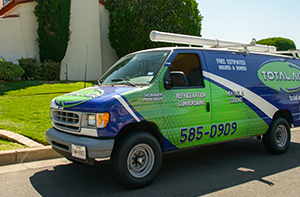 As many of you may know, the El Paso area has a large number of unlicensed, self-proclaimed "heating and cooling contractors". We call them "side jobbers" and "opportunists." And, many are simply scam artists.
While these illegal contractors may offer to install refrigerated air systems in your home at a lower rate, there are many risks that are associated with choosing to work with unlicensed contractors. Above all, your installation is sure to go wrong and they are nowhere to be found when that happens.
It's not uncommon for these illegal contractors to claim they are licensed professionals; some go so far as to steal legitimate license numbers from HVAC companies in the area. Or, they simply work without pulling a permit at all.
The City of El Paso does a great job of managing the licensing and permits for legitimate contractors. When you choose to work with a contractor, give yourself piece of mind by first checking their license information. You can find Total Air's licensing information here: https://epermits.elpasotexas.gov/CitizenAccess/amca/LicenseProfessionalList.aspx?SearchMode=lpList&searchText=Total%20air . Next, you will want to go to to ensure a permit was pulled for your conversion to refrigerated air or replacement of your current HVAC system. It is NEVER legal to do a swap out without a permit.
City permits for new HVAC systems protect homeowners from scamming, so-called heating and cooling contractors. They also ensure that:
your installation has been completed by a licensed contractor
your installation of heating and air will have to pass stringent inspections for safety and quality
your warranty for your installation of a new heating and cooling system will be honored by equipment manufacturers. (Equipment manufacturers often require that a city permit be filed with your warranty application for a new system).
Total Air is a licensed, bonded and insured heating and cooling contractor with a long reputation of doing the right thing! We lead the City of El Paso in the number of permits pulled for conversions to refrigerated air and/or replacements of current HVAC systems.
For a free new system estimate for refrigerated air from Total Air, call 915-585-0909.