Just How Much Does Your Cooling System Affect Your Allergies? More Than You Could Ever Imagine!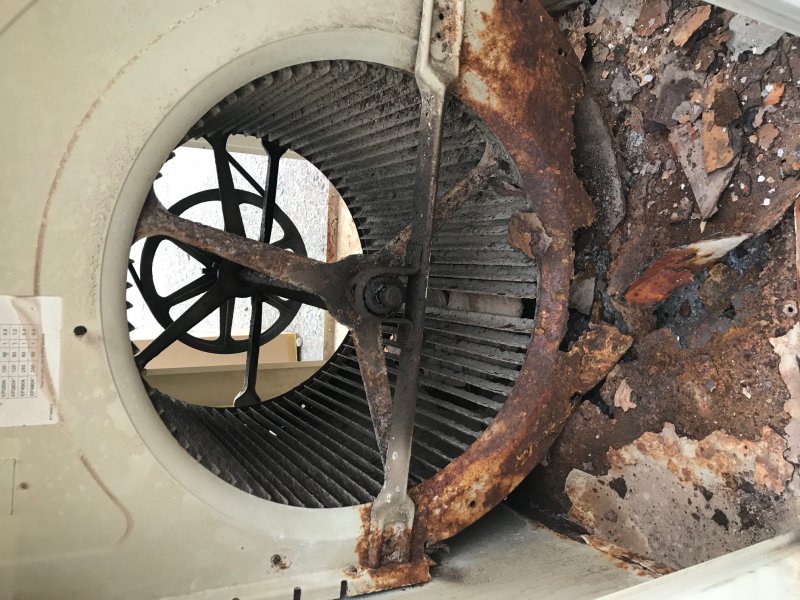 PICTURED: This is a recently replaced cooler in an El Paso home where Total Air converted it to refrigerated air. The family living there had been breathing in rust and mold particles from this cooler for years.
According to the Centers for Disease Control and Prevention (CDC), more than 50 million Americans suffer from allergies every year. Those allergies can cause all sorts of terrible symptoms, like itching, sneezing, sinus pain, chronic illness, seizures and more.
Here's what you need to know about how your cooling system is responsible for many of your allergies symptoms— and how to minimize them.
At Home
Though a pollen allergy is likely to attack you when you're outdoors, being allergic to bad indoor air may also be putting you at risk of experiencing "environmental allergies", reactions to allergens you have in your own home!
If you are having the following symptoms, you can blame much of it on the AC:
nasal congestion,
itchy and watery eyes,
sneezing,
stuffy or runny nose,
scratchy or sore throat,
skin infections,
cough from postnasal drip, and/or
seizures.
So, what can you do? You don't want to move from your beloved home. Here are some suggestions to help you clean up your indoor air and experience little-to-no allergic reactions at home:
CONVERT TO REFRIGERATED AIR!

This is the single best—and most effective—solution to improving your indoor air. The air you breathe everyday, should not contain the contaminants that coolers put off inside your ducts, in your vents, and ultimately into your living and and breathing spaces.

If you have refrigerated air, keep your windows closed and run the air conditioner if you're allergic to pollen. Simply using fans doesn't work because they can stir up dust.
Filter the air. Change your air filters regularly. Need help with this? Make sure you get springtime maintenance and we'll do it for you!
Keep the humidity in your home below 50% to help prevent mold growth. Because swamp coolers actually draw humidity from the air to operate, this may be promoting mold growth in your ducts and vents.
Install a humidification system with your HVAC. This equipment controls and emits the proper amount of humidity needed in all seasons, minimizing allergens that grow from bad levels of moisture in the air.
Simple mold-testing kits are available in big box stores and hardware stores. They're easy to use and will let you know how much mold is in your home. If there's a lot, you can work to get rid of it, especially in the rooms where you spend most of your time.
Minimize dust. Converting to refrigerated air does this for you! It doesn't competely eiiminate it, but it does keep it at the bare minimum.
Converting to refrigerated air can help you create a healthier and more comfortable home for you and your family. For an estimate on converting or replacing the HVAC, call us at 915-585-0909. Ask about adding on better controls for humidification and air cleaners. If you or anyone you love in the home suffers from allergens or respiratory illness, it's worth the additional investment!