Mosquitos in your house? They could be coming from the evaporative cooler.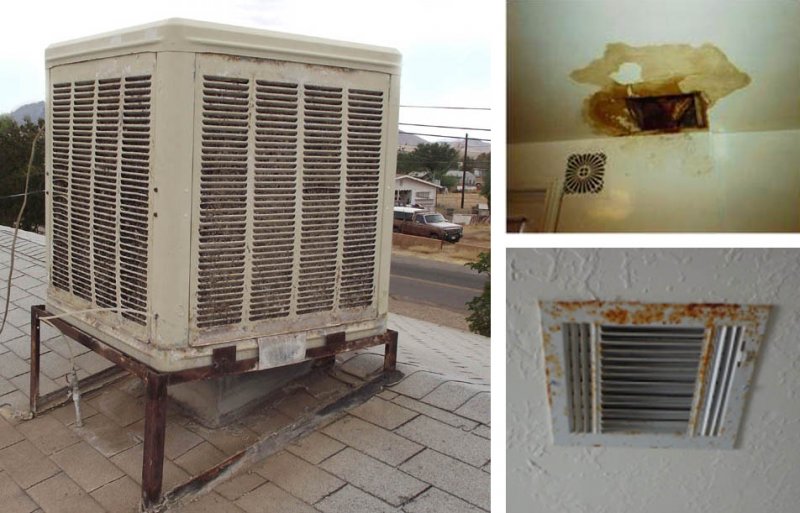 Mosquitoes are quick to breed and even quicker to transmit diseases. These pests develop viruses inside their bodies first taken from infected animals. From there, mosquitos spread the viruses to people.
Mosquitos can hatch in just about any size pool of standing, stagnant water that is uncovered—big or small. Literally thousands of mosquitoes can breed in a small amount of water especially in swamp cooler pads and plugged eaves on houses. This can turn out the pests in the millions and may be why mosquitos are getting into your home.
How can you protect yourself? Total Air makes these suggestions:
Convert evaporative coolers to refrigerated air. At the very least, schedule regular maintenance, including filter changes and cleaning:

The problem with swamp coolers is that it uses running water pumped throughout to operate. Standing water in the bottom is a frequent problem. These coolers are a perfect breeding ground for mosquitos. If all of the air spaces around the evaporative coolers aren't sealed, mosquitos will breed and get into your home.

The other problem with evaporative coolers is that they best work with a window slightly open. Mosquitos will enter the home through any screen holes or windows that are not sealed properly.

Empty and clean out fountains, ponds, pots or vases, etc. frequently.

Discard old tires or keep them in the garage.
Repair leaky plumbing and outside faucets.
Clean clogged roof gutters and drain flat roofs.
Your best defense against mosquitos in your home is to upgrade your evaporative cooler to refrigerated air. Total Air offers free estimates and same week installations. To schedule your free estimate, call 915-585-0909 or visit http://www.totalairep.com/contact.