Protect Yourself and Your Home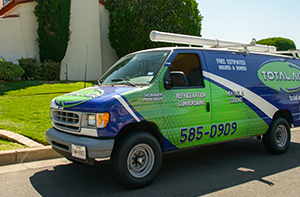 A month ago we posted a blog warning our customers about hiring unlicensed contractors to perform work on their homes. This is a follow-up post to inform our patrons that the problem of illegal contractors stealing money from El Paso homeowners is still plaguing our area. On Monday, January 16, 2012, the El Paso times posted an article declaring that the most wanted-fugitive in El Paso is one such unlicensed contractor who allegedly took $5,500 from a family to install refrigerated air and then never completed the job. We've included the article at the end of this post.
In this tough economy, everyone is looking to save in whatever way they can and often times unlicensed contractors will offer to perform work for less than professional contractors. It's also more tempting here in El Paso because everyone "knows a guy" looking for work. But as we explained in our previous blog, sometimes hiring illegal contractors costs you more than you know. Not only do you run the risk of losing your money, but in most cases your home insurance will not cover any damages your home sustained as a result of the unlicensed- contractors unfinished work.
Here are a few tips that can help protect you and your home.
Use a licensed contractor. Professionals are required by the state to have their licenses to hold them accountable for their actions. Not only ask for their license number, but verify it by going to the Texas Department of Licensing and Regulation website. The link to the license verification form can be found at the end of this blog.


Make sure that you choose an insured and bonded contractor. In the event that your home does sustain damage during a project the company's insurance will cover the repairs.


Verify that your contractor is not on El Paso's deceptive business practice warrant list. The list can be accessed by going to the El Paso county website and searching "Customer Fraud." A link directly to the list can also be found at the end of this post.


Once you've chosen a contractor, check their Better Business Bureau (BBB) record. Our company record is linked directly to our website and can be accessed by clicking the Accredited Business icon on the bottom right side of the home page.


Ask for references and check them. Use the internet. Perform Google and Yahoo searches and read the reviews customers have left.


Do your homework. Know who you're inviting into your home to perform work on your house.


http://www.elpasotimes.com/newupdated/ci_19748719
http://www.license.state.tx.us/LicenseSearch/
http://www.epcounty.com/dtpalist/default.aspx