PureAir™ Air Purification System: The single solution to clean everything in the air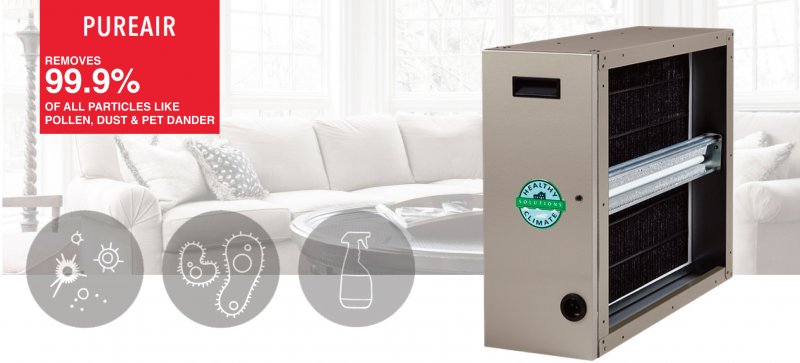 The EPA reports that indoor air is twice as polluted than outdoor air. https://www.epa.gov/indoor-air-quality-iaq/inside-story-guide-indoor-air-quality. Homes in El Paso and Las Cruces especially know this because the excessive dust, dirt and pollutants easily enter the home through the HVAC system. Without an air cleaning system, your family is breathing these allergens with every breath. PureAir™ Air Purification System is a clean and healthy solution for the whole house and everyone in it!
The PureAir™ Air Purification "clean air" system filters out harmful elements that enter the home through the heating, cooling and ventilation system. They eliminate germs, allergens, pollens, pet dander and fight odors. Only the PureAir™ Air Purification System addresses all types of indoor air pollutants. Here's a true story from a PureAir™ install customer: "We bought the system because my daughter is marrying a person with severe lung/skin allergies to dogs and cats. He was at our house a month ago and was eye watering, congested and miserable. He came last weekend after we installed the PureAir™ system and had no issues staying with us. Good news - great product! We also upgraded to a new AC and wanted to make sure we have the cleanest air available for some health issues. The unit has removed more dust and has helped make our home clean and fresh."— http://www.lennox.com/products/indoor-air-quality/air-purification/pureair
You can't see them, but you don't want to breathe them! PureAir™ filters out more than the pollutants that may be making you sick. If they make it into circulation, they can make you sick. PureAir™ combats over 90% of germs and bacteria.
Chemical odors and vapors
Unpleasant odors don't just irritate your nose, they can be bad for your health in general. PureAir™ breaks down chemical smells and vapors, rendering them odorless and harmless. Unpleasant smells can have unpleasant effects. PureAir™ destroys household odors and chemical vapors from sources like pets, cleaning products and cooking appliances. Many other air cleaning solutions generate ozone, a known lung irritant. PureAir™ doesn't generate any ozone. In fact, its carbon filtration actually reduces ozone generated by other sources in your home.
By pairing the PureAir™ Air Purification System with innovative heating and cooling products, you can enjoy the ultimate in indoor air quality and comfort. PureAir™ provides highly effective air filtration without using much electricity. It's a smart solution for preserving the quality of the air in your home. And it's a smart solution for your utility bills.
"My wife and I do not suffer from asthma, but we do have two Golden Retrievers and a range vent that only recirculates cooking fumes through a rudimentary filtration system. I bought the PureAir system when I had my whole house (refrigerated) air conditioner replaced. I was initially skeptical about the PureAir unit, but it does what I wanted it to do: IT REMOVES ODORS. No unit can remove fumes as effectively as open windows and a strong breeze, but when that is not an option, the Pure Air does an excellent job. A hint as to effectiveness: after cooking odors are noticed, set the air handler fan setting on your thermostat from "Auto" to "On" to force airflow constantly through the filter. Next morning, odors are gone. Impressive. Even in winter, our house smells pleasant. The MERV 16 filter works well for particulates. Moreover, a leading consumer magazine has found the MERV 16 filter that is part of the Pure Air system to be highest-rated among whole-house systems that were tested. ."— http://www.lennox.com/products/indoor-air-quality/air-purification/pureair
For a free estimate on the PureAir™ Purification system, call Total Air at 915-585-0909 or schedule it at www.totalairep.com