Reasons Why Your Furnace May Be Blowing Cold Air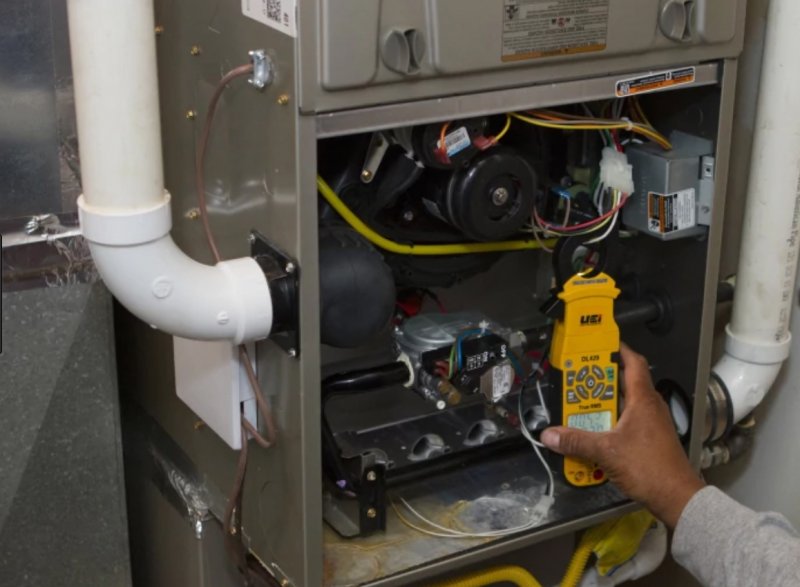 Most issues in a newer furnace are an easy fix and you can have things back to normal in a matter of minutes. But, if your furnace is 10 years or older, it could be something bigger and you definitely need a proper diagnosis and especially, a safety check. Broken furnaces can be potential hazards in that they can leak gas or carbon monoxide and put your family in danger.
If you turn on your furnace and it is only blowing cold air, here are the most common things that may be wrong that you can try to fix yourself:
The thermostat setting needs to be changed
Check your thermostat setting – it may be as simple as switching it to heat. Many of us have refrigerated air and new furnaces for the first time after converting over the summer. Even in new systems and depending on what model thermostat you purchased, you still may need to manually switch your setting to HEAT and choose a comfortable temperature set point so that the heat runs and not the cooling.
Low batteries
Another common problem is having low batteries in your thermostat. If you can't remember when you last changed the batteries in your thermostat, it is probably time to change them. Low batteries can prevent temperature changes in your thermostat, leaving the HVAC system in cooling mode.
Dirty fllter
Dirty air filters can impact furnaces in a variety of ways, including turning off the burner when the system is overloaded. If your furnace is blowing cold air, try changing the air filter and rebooting the system.
Glitches and hang ups of the furnace operation
If you have a newer furnace that uses an electronic control panel, you may have to reset the system. Think of this in the same manner as rebooting your computer when you have glitches to the system. A fresh reboot may reconnect and start the system running again.
If you have an older furnace, here are the potential problems that create "no heat" situations whereby you should call for Total Air's help to fix:
Pilot light
If you have an older furnace, the pilot light may have gone out. This can happen for a variety of reasons, from a gust of wind to unexpected activity near the furnace. If you turn on your furnace and there is no heat, try relighting the pilot light yourself. If you are not comfortable doing this, call for a furnace maintenance check.
Faulty valve
If the pilot light won't light, you may have a problem with the gas valve. If you haven't had your furnace cleaned or maintained in a while, dirt and debris can accumulate and cause damage to the system. Call Total Air for a fall furnace maintenance where we prepare your system for heating season and check it for potential problems like this.
Faulty ignition
If you have a newer furnace with an electronic ignition, the system may need adjustment. This can be done and is usually covered by warranty if your system is less than a year old. This problem requires maintenance from a HVAC professional, but can be easily repaired.
Flame sensor
Do you occasionally find your vents blowing warm air, yet it quickly turns to cold? That kind of behavior can make you question if a problem truly exists. In many cases, this stems from a faulty flame sensor. If the flame sensor is covered with grime or simply worn out, it can cause the burner to shut off before its completed the process. Cleaning or replacing it will bring the system back into working order but should be done by a Total Air technician.
Total Air technicians are trained and highly skilled in the diagnosis and maintenance of most models of furnaces. If you turn on your furnace and it is blowing cold air, call us at 915-585-0909. We'll get you warmed up quickly and prepare your furnace for the remainder of the heating season.
Visit Total Air at www.totalairep.com to read our reviews and gain confidence in knowing that we are El Paso's #1 trusted and skilled HVAC contractor.