Refrigerated Air is Too Cold...and Other AC Myths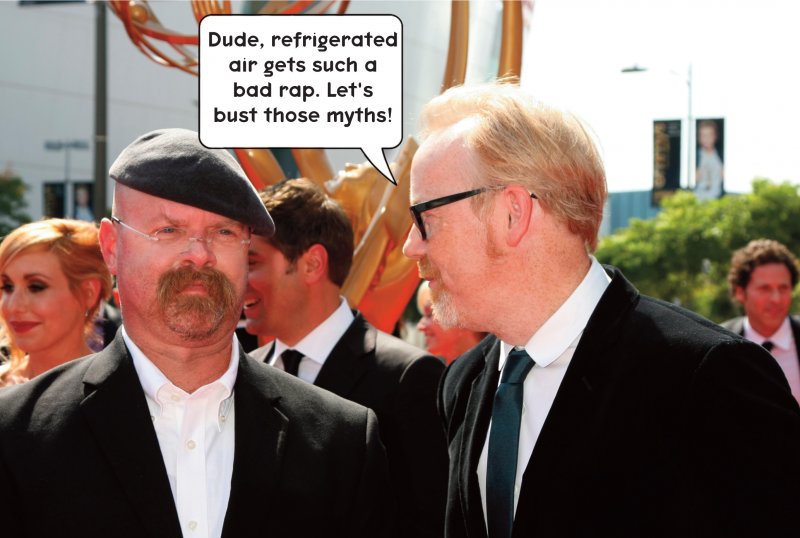 Myth #1
We hear it frequently, "I don't want refrigerated air because it's colder than evaporative cooled air."Interestingly enough, it comes from homeowners who don't even have refrigerated air. The problem with this thinking is that it's simply not true.
Refrigerated air is the only way to regulate a thermostat for continuous, consistent temperatures. YOU choose what that temp is. If you prefer a warmer environment, set it. If you prefer it cooler, choose that.
The temperature in your home with refrigerated air is YOUR CHOICE! The fact that refrigerated is too cold, is a myth.
Myth #2
Converting to refrigerated air is expensive. Granted, HVAC can be one of the more expensive investments you make in your home, however, it is difficult to put an exact value on your comfort, health, and a "good" night's rest. In addition, one should consider that refrigerated air in El Paso increases your resale value. Selling a home in this market without refrigerated air is nearly impossible. Most buyers won't even look at a home that doesn't have it.
Another financial benefit of refrigerated air is that you may enjoy significant utility savings. This is especially true of the higher efficiency models (the higher the SEER* rating, the more savings on your utility costs for cooling your home you will see).
The return on your investment comes quickly with refrigerated air debunking the myth that it is too expensive. If you want to explore investing in refrigerated air, call Total Air for a free estimate.
Myth #3
Some say that energy efficiency claims on new refrigerated air systems are incorrect. That's is proven to be untrue. ENERGY STAR sets and regulates SEER ratings after much testing and quality control.
Unachievable levels of efficiency may actually be with a homeowner's air ducts. Efficiency is directly related to a home's ductwork. If you have leaking air ducts, you will loose efficiency. Air escapes through holes in the ductwork and is lost to unconditioned spaces.
There are several tests that can be conducted to measure leakage in air ducts. Total Air investigates the quality of your ducts with every installation. Recommendations can be made for repairs or duct sealing, using a variety of methods (duct tape, mastic or aerosol). Sometimes replacement of the air ducts is necessary.
In addition to duct leakage, air ducts can be obstructed with debris causing your system to have to work harder and lose efficiency. There is a very easy solution for this problem…duct cleaning. Air duct cleaning should be done at least every 3 to 5 years, especially in El Paso due to the amount of dirt and dust blowing in wind. Duct cleaning also maintains clean air and eliminates dust inside your living space, making it even more valuable to maintaining a more comfortable and clean environment. Total Air will be happy to recommend a duct cleaner for this service.
Lack of efficiency in your refrigerated air system can certainly occur. But, it's not a myth…it means you have a duct problem. Simply sealing and cleaning your air ducts will ensure that your refrigerated air runs at peak performance and highest efficiency all of the time. It also helps you live with less dust, pollen, pollutants, mold, fungus, and every other allergen entering your home.
Myth #4
Some homeowners believe that preventive HVAC maintenance is not necessary. This myth is recklessly wrong!
If you want to protect your investment of new refrigerated air for a long time, preventive maintenance is a homeowner's best bet for maximum system life. Systems that are maintained through a preventive maintenance plan are proven to last an average of 5 to 7 years longer. With Total Air's comprehensive HVAC preventive maintenance plans, we see systems lasting even longer than that!
Total Air offers affordable, comprehensive preventive plans whereby we schedule you twice a year and come out to monitor, clean and maintain your cooling and heating systems. In the spring and again in the fall, we'll prepare for the upcoming extreme weather BEFORE it arrives!
Affordable preventive maintenance plans are available for one, two, three, four or more systems. Call our office at 915-585-0909 to learn more. Or, email us at totalairsales@gmail.com and we'll send you a preventive plan application with pricing.
Don't believe the myths you hear about refrigerated air. They simply are not true. Our satisfied customers will tell you that they wish they'd converted to refrigerated air years ago—that their level of comfort and utility savings is something they never thought possible.
For more information or for a free estimate, call Total Air. We'll send a project manager out immediately to size up your home and recommend options at varying price and efficiency levels. And, right now, Total Air has financing options, including 60 months same as cash (0% APR) and discounts for highest efficiency system.
Total Comfort. Total Savings. TOTAL AIR!