Take Control of Your Home Comfort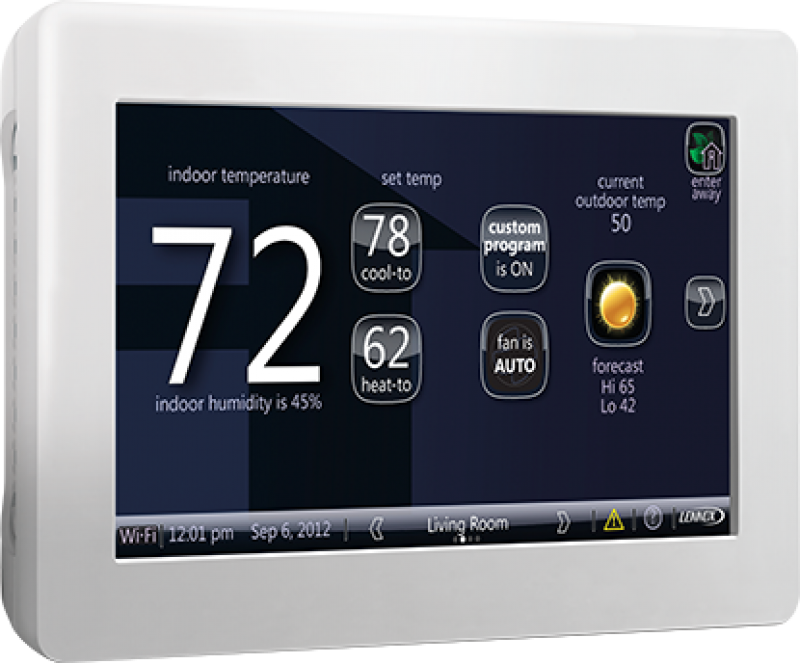 Our blog is brought to you by Lennox iComfort Wi-Fi Technology
Did you know that proper use of a programmable thermostat can save you up to $180 every year in energy*? It's true!
Heating and cooling accounts for 50% of your energy bills*. With an iComfort Wi-Fi thermostat, homeowners can save energy by taking control of their home's thermostats at all times; from anywhere! Adjusting to your schedule is how Wi-Fi technology helps you save money.
Lennox' innovative programmable thermostat is also easy to use. The intuitive touchscreen makes temperature adjustment as simple as a single finger touch.
For even more convenience, the iComfort Wi-Fi thermostat includes features like One-Touch Away Mode, which allows you to save energy when no one's home. The thermostat also keeps you updated on the weather, so you can be prepared for any cold snap or heat wave that comes your way.
App-Enabled: Free to download for Apple and Android devices, the iComfort App is like a touchscreen window into your home comfort. Whether you're on the road or on the couch, simply start the app to check and change your room's temperature.
Alerts and Reminders: Stay on top of your system status by receiving and viewing any alerts or reminders for needed maintenance or service.
Peace-of-mind protection: The iComfort Wi-Fi thermostat comes with a five-year limited warranty. For more information, visit http://www.lennox.com/products/comfort-controls/thermostats
Total Air offers installation and homeowner training of wi-fi thermostats. Call us for a quote and schedule your install today. 915-585-0909 or visit us at http://www.totalairep.com/contact
Source: ENERGYSTAR.GOV, Programmable Thermostats, Proper Use Guidelines