The Best Brands for Heating and Cooling Equipment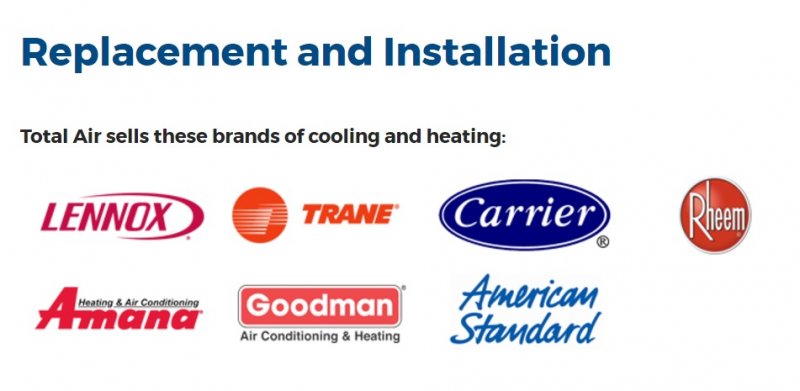 At Total Air, we just don't sell one brand. We'll never estimate a single solution for you. We provide equipment options. Why do we do this? Well mostly, because you have your own personal preferences and a price point in mind before we even arrive to quote you a new system.
Our list is quite extensive when it comes to heating and cooling equipment. At Total Air, we sell the premium brands of Lennox, Trane, Rheem, American Standard, Carrier, Goodman and others that other that El Paso owners desire. One thing to note, though, is that all of our equipment sales come with the best manufacturer warranties. You'll enjoy comfort and peace of mind for many years to come knowing your are protected on your investment. Learn about our brands here: http://www.totalairep.com/replacement-and-installation
Offering a varied supply of HVAC equipment, Total Air is able to meet most homeowner's price points. While we don't sell any inferior equipment without warranties, we do sell lower priced options for converting. And, we sell high efficiency for all of you who are looking for long term energy savings on efficiency. They say, "you get what you pay for!" That is certainly true of HVAC. Be sure you are getting a premium brand that comes with long life guarantee and protection.
The choice can be difficult sometimes, that's why EVERY Total Air project manager is trained to provide you with a comprehensive understanding of equipment with your quote so you can make an educated decision instead of a "take it or leave it" estimate. We also welcome revisits. Not quite sure you are ready to decide? Talk to other contractors, we encourage it. And, then call us back if you have questions or doubts on your impending purchase of refrigerated air. There's a lot of value in the way we do business with homeowners. We want your complete confidence before our installation and we get that with equipment options, fair prices and excellent installations, sales and service!
One thing is for sure, Total Air wants you to feel good about your purchase of a new heating and cooling system. We just won't want to be there for your installation after your purchase. We want to be your HVAC partner for the lifetime of it. It's a commitment we make to every new customer!
For a comprehensive survey of your current system and home for adding refrigerated air, give Total Air a call at 915-585-0909 or visit us at www.totalairep.com. And while you are there, read our reviews from our installation customers and you'll quickly learn that Total Air is the contractor you'll want in your home.