The Problem With Evaporative Coolers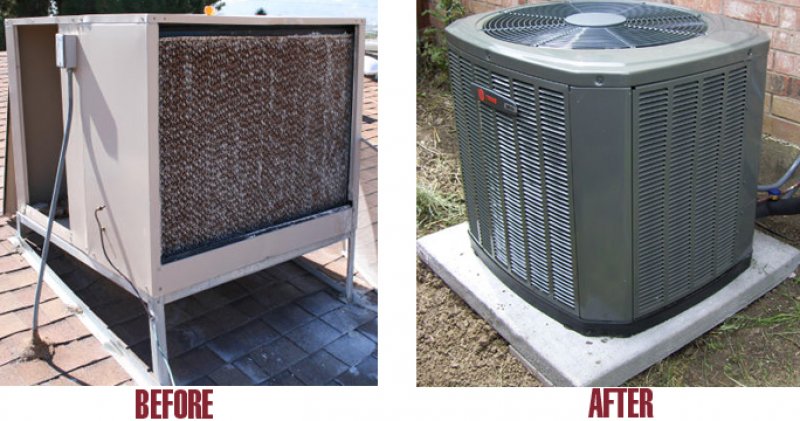 In the arid, low-humidity climate that El Paso and Las Cruces experience, evaporative coolers (also called swamp coolers) have found a home as the cooling system for many. The main reason is that they are cheap. But, buyer beware…swamp coolers have many drawbacks where investing in refrigerated air makes more sense. Here's the problem with evaporative coolers:
They aren't cheaper in the long run
Evaporative coolers cost about half as much to install as refrigerated air system, however, they are only guaranteed for five years. New, high efficiency HVAC systems, when well cared for, can last 4x the life of a swamp cooler. To purchase and install an evap cooler with a licensed contractor, you can pay up to $4,000. Do the math on that and you've invested way more in an inadequate, underperforming cooling solution than if you bought central air. The investment is basically the same; more if you also have to pay for roof repair caused by a leaking cooler. Which brings us to our next point…
They are high maintenance
Evaporative coolers have to be drained and cleaned regularly to avoid over-spilling and/or buildup of sediment. If not, this is what leads to smells and roof damage.
The more a swamp cooler runs, the more maintenance it will need. In our extremely hot summers, where the cooler operates much of the time, the pads, filters, reservoir, and pump will need to be maintained at least once a month. Refrigerated air systems only need regular filter changes and once-a-year preventive maintenance to perform perfectly for many, many years.
The air is not as healthy or clean
Swamp coolers drain through the ductwork right into your house, distributing wet, musty air into your living spaces. Moisture leads to mold and mildew and if you have an ineffective evaporative cooler, that's what you'll smell throughout your house when the cooler is running. Woodwork, books and upholstery will swell and eventually trap those smells. But worse, breathe bad air in constantly and it can eventually lead to respiratory problems like allergies or asthma.
Another problem with swamp coolers as it relates to cleanliness is that moisture in the ductwork causes it to break down over time, pushing metal particles out of the vents and into your home. And, consider this: evaporative coolers only operate when the windows are open. In our dusty seasons, that is a problem. Refrigerated air systems automatically clean and filter the air, providing a healthy clean cooling solution!
They don't work in rain or humidity

When the Fall monsoon rains come to our area and you have a swamp cooler, you might as well plan an out-of-town vacation or go to the movies for the afternoon because NO swamp cooler is going to work in that. Discomfort is only compounded in a home with an swamp cooler when it's humid outside. They add moisture to the air and make it feel like a "swamp' inside!
They can affect the resale value of your home—and not in a positive way
Have you tried to sell a home in El Paso or Las Cruces that doesn't have refrigerated air? It's nearly impossible. Why? Because of all the reasons stated above.
Evaporative coolers in El Paso and Las Cruces are simply ineffective, undesirable, dirty and unhealthy. And, in the end, they are no cheaper.
If you have an evaporate cooler and want a free estimate to convert to refrigerated air, call the licensed, certified, insured professionals at Total Air. We can convert many times the same week you buy! Beat the heat, call today: 915-585-0909 or schedule a free system estimate at www.totalairep.com/contact.