Total Air Chosen as Select Provider for El Paso Electrical Residential and Commercial Solutions Programs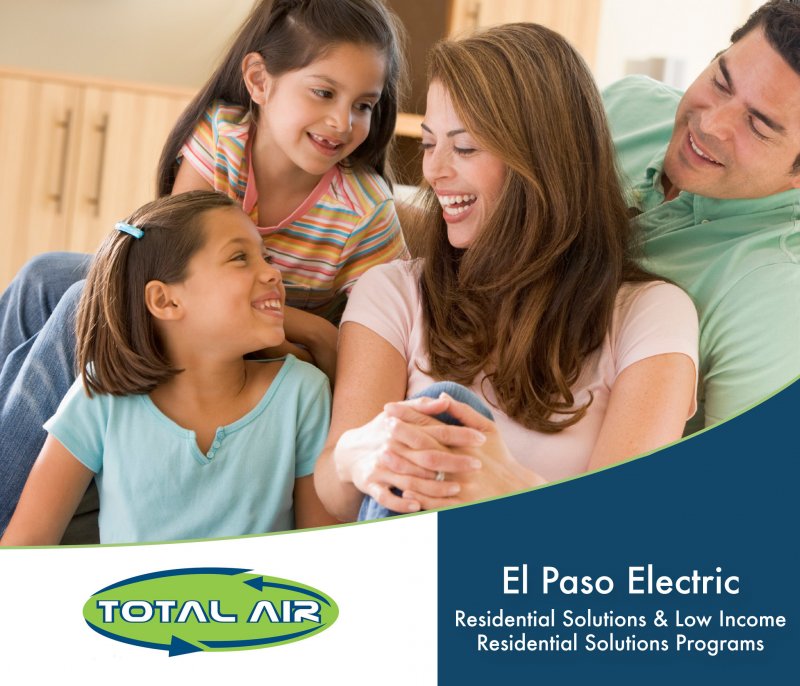 Total Air has partnered with El Paso Electric to provide incentives to help make your home more energy efficient and comfortable. What this also means for you is discounts for your replacement of a higher efficiency heating and cooling system!
It's a fact that half of your energy usage is due to heating and cooling your home. If your home's AC and furnace isn't operating efficiently, it's costing you a lot of money. Replacement of HVAC with high efficiency can help you save on costly utility bills.
Choosing a select provider, like Total Air, makes a difference, too! Energystar.gov says, "…replacing your old heating and cooling equipment with new, energy-efficient models is a great start. But also to make sure that you get the best performance, the new equipment must be properly installed. In fact, improper installation can reduce system efficiency by up to 30 percent—costing you more on your utility bills and possibly shortening the equipment's life."
How the EPE Solutions Program Works
El Paso Electric offers the incentive for refrigerated air upgrades. If an El Paso homeowner replaces an old refrigerated air system with a higher, more efficient one, immediate discounts apply. Unfortunately, homes with evaporative air systems that need to be converted do not qualify. It must be a refrigerated air replacement. You may qualify for even greater savings if you are income eligible.
A Total Air project manager can tell you more about the EPE incentive program and other rebates that may apply to your purchase. In addition to the local program, the Federal Government has renewed tax incentives for 2016 for high efficiency replacements, too. To "bring home the savings" by reducing your energy bills while creating more comfort, call Total Air at 915-585-0909 or visit our website at www.totalair.com.
Total Comfort. Total Savings. TOTAL AIR!