Total Air Extras: The Little Things That Mean a Lot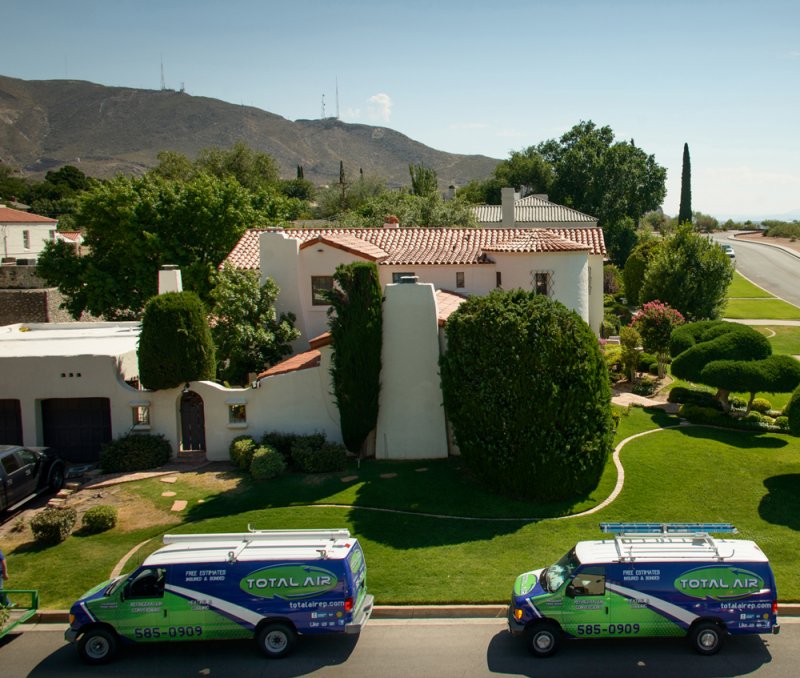 "Little by little…a little became a lot," said one of our customers when Total Air recently converted her home to refrigerated air.
Your heating and cooling system is one of the largest investments you will make as a homeowner. Yet, some are too quick to choose a low-price contractor who cuts corners by not doing the most comprehensive job that can be done. And, by "comprehensive," we mean they DON'T do some of the necessary steps required or do those extra little things that will make your system the perfect fit for your home.
Here's the extra things that Total Air does for every install that we are certain other contractors do not:
We "design" a new heating and cooling system for your home.
At the time we estimate your new system, you are assigned a project manager with substantial HVAC experience to take proper measurements, calculations and consideration of your home type. The system we design will meet the exact specifications for the size, layout and code requirements for your home. We also look at the electrical to make sure it is adequate and designed to work with your new system and meet code.
We pull the proper permits for you.
A requirement of the City of El Paso—and significant protection for you—is that the proper documents are filed with Code Enforcement. These permits are importnat in that they will stay with that home's history for the lifetime of it, documenting that a licensed, professional and insured installer has properly completed the work. It also ensures that the city will take a last look at the work to approve or disapprove the quality, which leads us to #3…
We order a final inspection for you.
The last step in a Total Air installation is a final inspection from the City of El Paso. Code enforcement is ordered to come and sign off that the work Total Air has done meets all code requirement and passes a final inspection. This step (and #2) are steps you do not want to skip because you will never know what quality of work was done on the installation of your new system. That is a problem when something goes wrong! Should an installer tell you "don't worry about permits or inspections…," BEWARE. That is a big red flag and means they may not have the proper licensing or credentials to do the job.
We install opposing blade dampers (or OBDs) with every new installation.
Unless you order us not to use them or already have them, OBDs are included in every Total Air installation. What that means for you, is balanced air that is customized to flow through the living spaces you use…or use less. We work with you to understand how you use your home to provide the most comfort and efficiency for it!
We further evaluate and inspect the ductwork and electrical during our installation.
Sometimes we encounter problems during an installation that are impossible to evaluate during the first evaluation. When that happens, we make recommends for improvements and repairs. This attention to detail is why Total Air is able to provide the most comfort, highest efficiency and systems that perform at peak for our customers.
We file your warranty and WE HONOR IT.
After a Total Air installation, we file your warranty with the equipment manufacturer to ensure you get all of the coverage you are entitled to! Because we sell premium heating and cooling systems, our customers benefit with the most comprehensive and best warranties in the business. We'll keep a copy of the warranty and we'll send you one, too.
We assign you a Customer Care Representative to monitor your account for the lifetime of your system…not just until the installation!
When you work with Total Air for your heating and cooling installation or refrigerated air conversion, you get an HVAC partner for the lifetime of your system! First, we provide you with our 24-hour warranty hotline. If you encounter any problems, you are invited to call Total Air at any time for warranty service. One year after your installation, we will contact you for continued maintenance. The plan we design for you will ensure peak performance, highest efficiencies and long life for your new heating and cooling system. This is critical to the continued, problem-free operations of your new system.
When you are provided the extras that Total Air gives with every new system replacement or refrigerated air conversion, why would you hire anyone else?
Total Air prides itself on being the #1 trusted heating and cooling contractor in the El Paso area. We don't just call ourselves that, our 400-500 installations per year and track records for pulled permits and passed city inspections gives us the right to say it!
For an estimate on your new heating and cooling system, call Total Air at 915-585-0909 or contact us at www.totalairep.com/contact