Total Air Provides Cleaner Indoor Air Quality for City Bank El Paso Customers and Employees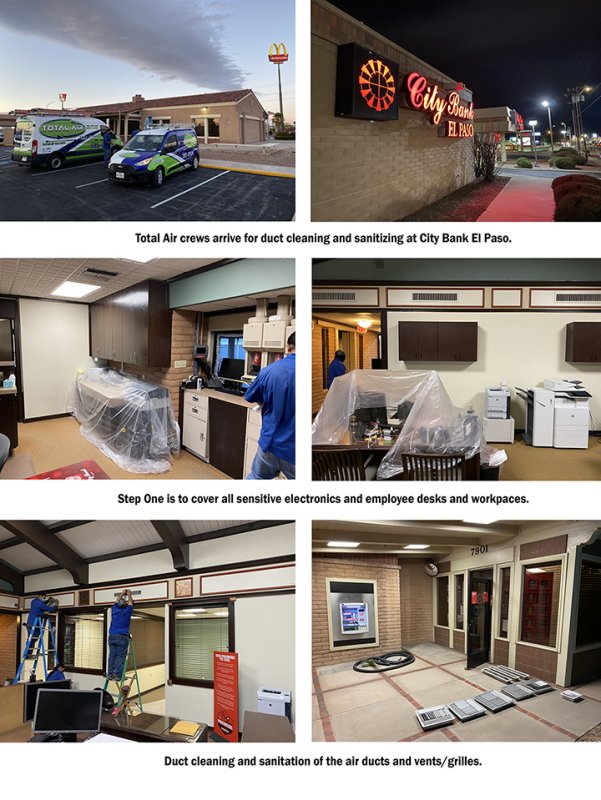 The air ducts that supply air through the heating and cooling system are a hiding place for dust, dirt, viruses, mold and other pollutants and allergens. The ductwork is hidden and because HVAC systems draw air in from outside to cool and circulate through the house, contaminants can easily make their way indoors.
Dirty air ducts significantly decrease the indoor air quality of homes and businesses. Many studies suggest that insufficient air quality and ventilation increases disease transmission (National Institutes of Health nih.gov). NIH study says, "Detection of pathogens in room air and buildings may suggest a possible, indirect association between ventilation and disease transmission. High ventilation rates could decrease the risk of infection."
So, how can this be corrected and the air protected in your home or businesses' air ducts? For starters, you should get your air ducts professionally cleaned to remove contaminants that enter the living and working spaces for family, employees or customers. To do that, schedule a duct cleaning with Total Air. Secondly, consider adding ventilation controls to your HVAC system to kill the contaminants before they get into the air ducts and ultimately in the breathing spaces of your home or business. Total Air offers air cleaners, UV lights and other controls to do just that.
Air duct cleaning is a sophisticated and difficult process without the proper knowledge and tools. First, all sensitive electronics and workspaces must be covered. Then, all vents and grilles must be removed for cleaning and sanitizing. Simply working IN the air ducts for cleaning is not enough. Finally, the inside of the ducts are cleaned with professional tools and processes to completely remove all dirt, dust and contaminants. This is a lengthy process as you can see in these pictures and in this movie, it went well into the evening to get the job done at City Bank of El Paso.
So how often should you clean the air ducts? If you have a business that welcomes customers and respects the employees health, then we recommend once a year to effectively maintain the ultimate indoor air quality. Your home may also benefit from once a year duct cleaning if you are sensitive to dirt or dust and have respiratory issues like allergies. If not, at least every other year is recommended to minimize dust and contaminants in the home.
If you're not entirely confident that your home or businesses airflow is safe, call Total Air for a consultation on increasing the indoor air quality. Schedule by calling 915-585-0909.
Watch these from our City Bank El Paso air duct cleaning to learn more about the process: