Total Air's Installation Checklist Helps Ensure Proper Installations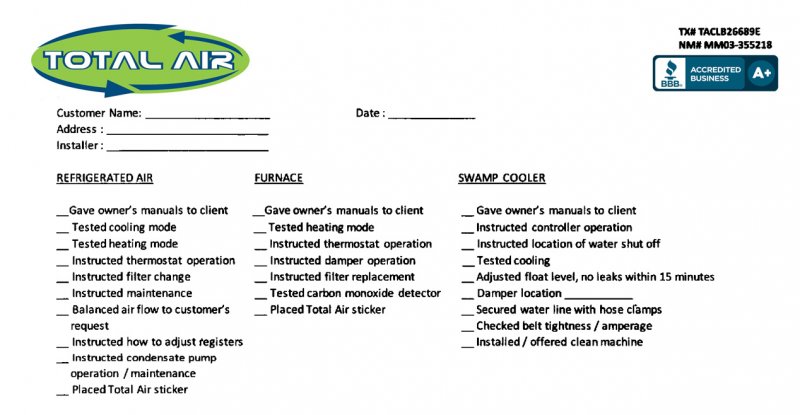 There are certain protocols that differentiate a good heating and cooling contractor from a GREAT one. Total Air considers ourselves the city's best HVAC contractor because we institute additional inspection protocols beyond our city's requirements for all of our installation customers. This should be especially important to you when choosing a heating and cooling contractor because these extra inspections can determine how your system will perform...not just after the installation but for the life of it!
At the start of every project, a thorough pre-inspection is conducted by a Total air project manager. At the time of your purchase, our project manager evaluates your indoor and outdoor electrical setup, performs load calculations to properly size equipment for your home, inspects gas, roof and furnace closet to troubleshoot any issues BEFORE we start the installation. The proper permits are pulled and only then is a new customer's installation ready to begin.
But, our checks and balances don't stop there!
What we feel really differentiates us the most from all others is the Total Air Installation Checklist. All installations are subject to a final review from our lead technician whereby every install step and part is tested for quality and performance…and passed via this extra inspection.
And, that's not all. At the completion of an installation, Total Air orders the city of El Paso to conduct a final inspection. Our track record of passed inspections is something Total Air is very proud of and we work very hard to protect!
After all inspections are passed, a Total Air Comfort Care representative becomes your HVAC partner for the life of your system. At the time of installation, a comfort care rep will visit you to introduce herself with information on warranties, filter sizes (and the importance of changing them in a timely manner), and other important information regarding the care of system. One year from the installation, you'll hear from her again with reminders about maintenance and care. For the life of your system, Total Air's Comfort Care representatives will help you keep your system in the best shape possible.
The Total Air Installation Checklist is an important measure in protecting your system…and our installation reputation. When you convert or upgrade your heating and cooling system(s), why not choose the best. Choose Total Air and nothing goes unchecked…from start to finish!
Call Total Air for free new system estimate at 915-585-0909 or schedule an appointment online at www.totalair.com/contact