Total Air's New Website Goes LIVE!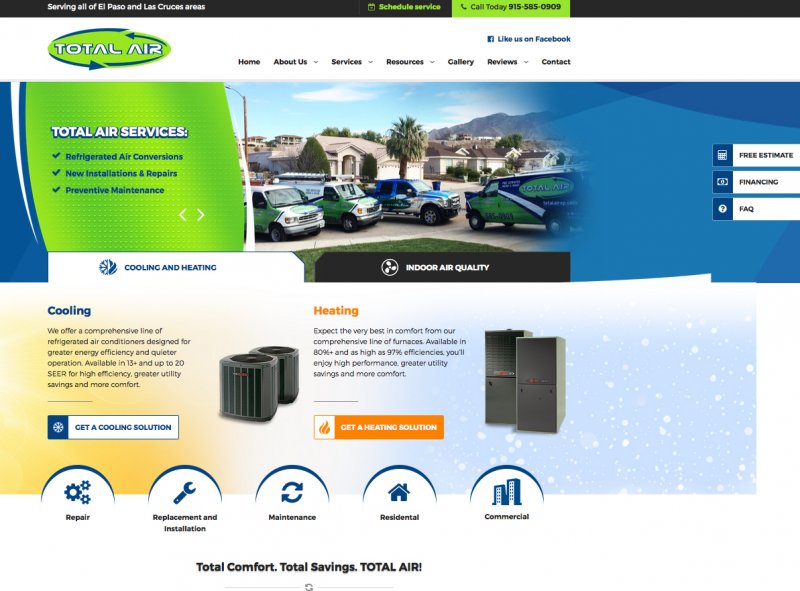 LIVE NOW!
Introducing our new Website: www.totalairep.com
It is with great excitement that we unveil the new Total Air website to you!
Aside from our updated, newly branded look, the website has been designed to help improve navigation and make it easier for you to find the information you need when you need it most. Here's what you'll find at our new website:
• COOLING: This tab offers a comprehensive line of refrigerated air conditioning solutions designed for greater energy efficiency, more comfort and increased energy savings.
• HEATING: This tab offers the very best in comfort from our comprehensive line of furnaces that are available in 80%+ to as high as 97% AFUE efficiencies.
• INDOOR AIR QUALITY: This new IAQ tab offers you tips for improving your indoor air quality…both what we can do for you and what you can do yourself!
• SCHEDULE SERVICE & FREE ESTIMATE: The online forms are designed to aid you in getting service and estimates quickly, easily and at your fingertips.
• REVIEWS & SATISFACTION SURVEY: (Our most exciting new features!):
— The Reviews pull down tab lets you read and write reviews and have them anonymously sent to our leadership team.
— Take our anonymous Satisfaction Survey here after your installation or repair and have the results automatically emailed to our leadership team. Your feedback is important and helps us to improve our service!
• GALLERY: Here you can view our impressive installation pictures
• RESOURCES: Here you can...
— read our blogs!
— get answers to Frequently Asked Questions!
— get information on our financing options!
— get additional savings with our latest coupon offers!
• AND SO MUCH MORE!
Explore our new website and if you have any feedback you would like to share with us , please email our leadership team using the new CONTACT US form.