Total Air Technicians Are Committed to Service Excellence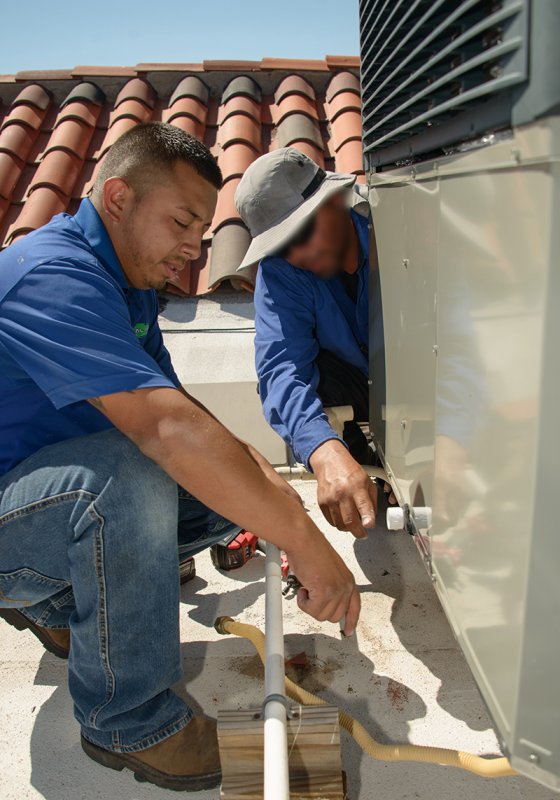 Total Air technicians are the best in El Paso. We can say this with confidence because we employ highly skilled, experienced, licensed and/or NATE certified (by the North American Technician Excellence) technicians. "But, doesn't every service company only hire experienced techs," you may ask? The unfortunate answer is "NO!"
Sure a good technician is hard to find, but without them we risk not providing you with the expert heating and cooling services and installations you expect and deserve.
Total Air technicians demonstrate their superior knowledge of today's increasingly sophisticated heating and cooling systems by solving the most difficult problems on all makes and models of refrigerated air or heating, ventilation and air conditioning equipment. And some have proven their knowledge by passing HVAC licensing and/or specialized NATE certification tests. Our technicians also remain up-to-date with ever-changing technologies by continuing their industry education and training with our equipment manufacturers like Lennox, Trane, Rheem and others.
Our customers can rest-assured that with Total Air technicians they are getting the best installation and service with maximum comfort and energy efficiency from their heating and cooling system. Furthermore, better installation and service means a longer life for your heating and cooling equipment!
Total Air technicians provide you with peace of minding knowing you'll experience:
Proper systems recommendations
Less callbacks
Faster, better service
Working systems that run at peak efficiency
Installations, service and repairs done right the first time!
Total Air is committed to excellence and quality service…that is what you get EVERYTIME you use a Total Air technician. It's what makes us different, moreover it's what makes us better!
If you're a homeowner or small business in El Paso or Las Cruces, or anywhere in between, and you want the best service team possible, call our office and ask for a highly skilled Total Air technician to come to your home. Do that and you'll enjoy peace of mind knowing you have just requested one of the finest technicians in the area.
Call 915-585-0909 to schedule a refrigerated air conditioning repair. Or, call for a new free system estimate. Visit us at www.totalairep.com to learn more about Total Air and our commitment to quality.