Total Air Will Help with the Refrigerated Air in Your Renovation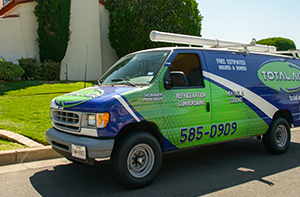 If you're thinking of renovating your home in the El Paso and Las Cruces area, chances are you'll need to update your air conditioning and heating systems. Whether your new space will be an addition or a converted room like an attic or garage, your current HVAC system may not efficiently supply air throughout the house.This is because your home's ductwork probably wasn't designed to distribute refrigerated air to the additional rooms. Even a high-powered air conditioner can't provide quality cooled air if the ducts don't allow it to reach every room.
To optimize the performance of your air conditioner, call Total Air, a professional El Paso HVAC company who can calculate the appropriate duct size for your new room. Total Air supplies ductwork installation and air conditioning installation in El Paso and Las Cruces. The size and shape of a room can determine what the proper size of the duct and air vent should be. Also to take into consideration is the tightness of your existing ducts. Furthermore, leaky ducts will keep your refrigerated air from circulating properly, but Total Air can seal them.
Mini split A/C systems are another service provided by Total Air and perfect for converted rooms. Mini split systems are a way of circulating cool air without ducts. They are great when your converted room has too little space for a traditional HVAC system. Instead of ducts, slimmer refrigerated lines run from an outdoor air condenser to indoor wall mounted blowers. The mini split systems can also convert to a heater in the wintertime.
Whether going for the mini split A/C installation or interested in optimizing your traditional ductwork to supply air to your new space, you want to be thinking about your home's HVAC needs before getting too far in the renovation process. You'll want your cooling system to work inside your walls, and the team at Total Air experienced with new construction HVAC installation can take care of the air cooling and heating part of your project. For more information and to receive your free estimate, call El Paso Air conditioning company Total Air at (915) 585-0909.