Total Air Works "Around the House"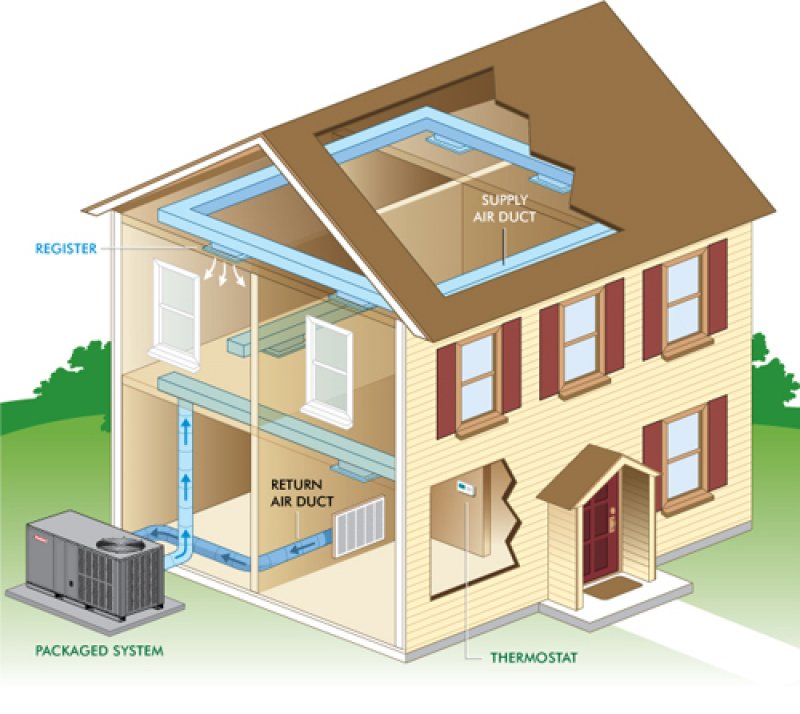 If you're planning to replace your air conditioning unit or convert to refrigerated air for the first time, there are many considerations to which system would be best and what electrical upgrades are needed. And, at the time of installation, there is much more technical work needed "around the house". Here's what we mean:
On top of the house…
If your home is more than 20+ years old in El Paso and you are converting to refrigerated air, chances are you are not set up to do so without an electrical upgrade on the lines that run to your home. But, not just there, the electrical panel of your home (the hub of your electrical system) will probably need an upgrade, as well. Electrical lines and panels are designed to shut off circuits in case of a voltage overload. If you have an old electrical, you'll require that they be upgraded if adding refrigerated air.
On the roof…
Rooftop HVAC units are packaged systems installed on rooftops that tie directly into a building's ductwork. In addition to lower installation costs, rooftop HVAC systems offer more options and versatility than others. Advantages of rooftop air conditioning systems include ease of installation when converting to refrigerated air, less noise, space saving and less dust and debris gathering around it. They are generally cheaper to install, too.
On the side of the house…
The air conditioning (or condensing) units of split system air conditioning is usually placed on a concrete slab somewhere along the foundation of your house. Many times, this is chosen by homeowners for aesthetic purposes. They also are do not compromise roofs and ceilings with leaks, although if properly installed, rooftop units do not leak.
Inside of the house…
With split systems, a furnace closet holds the other half of the system and its where conditioned air is converted to the proper heated or cooled temperature to then flows into the air ducts. The air ducts are located throughout the inside of the house to properly allocate air into your various living spaces. Vents are also a consideration of installation and placement inside the house. Total Air does balancing and new installations of all the supply and return vents when we are on the job and inside of the house.
The electrical panel of your home, a.k.a. the circuit breaker panel, is many times located somewhere in the house, too. The electrical panel is the hub of your electrical system. It's where the incoming electricity is routed to the different circuits.
When Total Air in on the project, we work outside, inside, along the side of the house to provide you the best solution for heating and cooling. For an estimate for new HVAC from Total Air, call us at 915-585-0909 or visit us at www.totalairep.com