When Selecting a Heating & Cooling Contractor, Think Long Term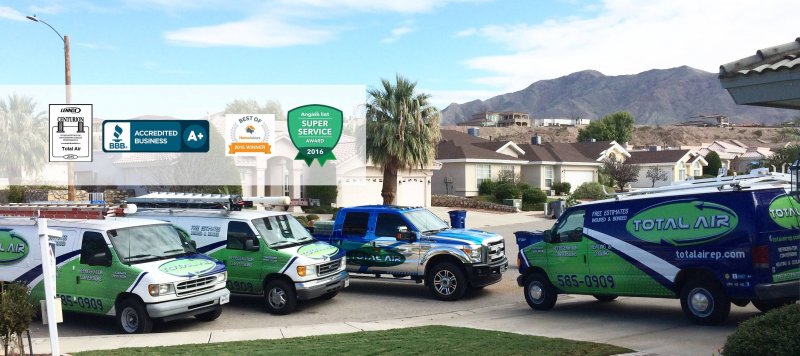 Selecting an HVAC contractor in El Paso is a difficult task, mostly in part because there are so many. Here's are some things you may want to do to help with that decision:
Visit Their Website
The professionalism and education at a contractor's website directly reflects the professionalism and education you'll receive throughout your "partnership" with a heating and cooling contractor. Total Air boasts the most informative website in El Paso. We continuously update our articles with the latest news, DIY tips, seasonal to-do's and much more to help homeowners make their best buying decisions, live with the most comfort and do what is best and healthiest for their HVAC. See what we mean here: http://www.totalairep.com/blog
Read Reviews
At Total Air, we post our reviews at Google, Facebook and on our website so you don't have to take our word on how you'll be served, get it from our many happy customers. We know we can't please all the people all of the time, but we will never stop trying! You can read some of our reviews here: http://www.totalairep.com/testimonials
Check with the BBB and Other Industry Organization
The Better Business Bureau provides accreditation and gives businesses a letter grade, from A+ to F, based on information it is able to obtain, including complaints received from the public. Total Air works harder than anyone to protect our A+ rating providing excellence in customer service and satisfaction. We have never waivered from this commitment or our grade by the BBB.
Total Air is an active member of ACCA. Air Conditioning Contractors of America (ACCA), an organization that represents only the highest level of HVAC contractors and offers information on what you can expect from an ACCA member.
Angie's List and Home Advisor are two referral networks that homeowners can visit to get insight into the services provided by a selected contractor. From both, Total Air is proud of its service awards including several SUPER SERVICE AWARDS from Angie's List and TOP RATED AWARD from Home Advisor. You'll see our seals of multiplying awards at the bottom of our homepage at totalairep.com.
Responsive, Prompt and Professional Customer Care

When you call, you talk to our highly skilled office staff who has your HVAC emergency their top priority. Our staff will get you scheduled for your immediate estimate on a new system, warrantied work for an existing one or answer any questions you may have for which they can help. If they can't, you can be assured they'll find someone who at Total Air who can! Call Total Air at 915-585-0909 to talk with a Customer Care professional today.
Finally, Think Long-Term
Total Air just doesn't want the job, we want to be your comfort "partner!"
If you are looking to purchase and install a new heating or cooling system (or both), be sure you are working with a licensed, professionally skilled HVAC contractor who is willing to provide a comprehensive warranty for the equipment installed. But, not just that, you'll want to know that the contractor you choose is there for the lifetime of your system and not just for the install. Total Air is that partner!
Choosing a professional company like Total Air for your comfort needs should give peace of mind that you have chosen the best in El Paso. Not just that, choosing the highly skilled, technical professionals will also keep your system is running at peak performance for years and years. Adding a preventive maintenance agreement will also add years of life to your system. And, you'll get to see our friendly faces twice a year. How can you beat that?

When choosing your HVAC contractor, consider all of the characteristics we mention here. If you do, you will be choosing complete satisfaction!
So, how can we help you today?